Mark Simone's Guide to the 2018 Midterm Elections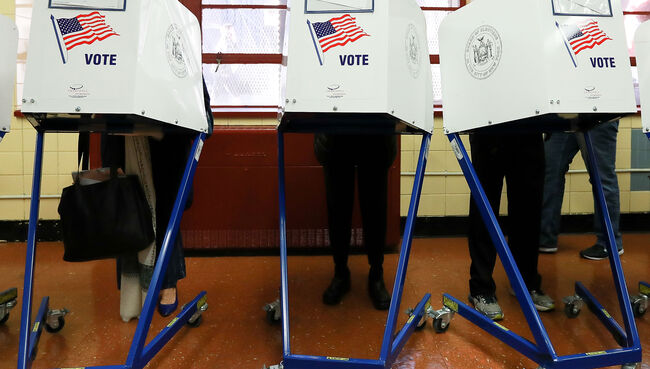 Another Election Day is coming up on November 6, and important votes are being cast all over the country. Here is what you need to know about the 2018 Midterm elections if you're casting a vote in the Tri-State Area.
While some have predicted a "blue wave" nationally, our Tri-State area is already choking on blue. Many of our local races are uncontested or effectively uncontested, with weak republican parties putting up lackluster candidates more to save face for the GOP than to really put up a fight.
But don't be discouraged from going to the polls!
Voters in New York, New Jersey and Connecticut all have some close races on which to cast ballots, and it's important to be informed.
Below, 710 WOR's Mark Simone has broken down some of the most important races and ballot questions in our area.
Connecticut
Governor of Connecticut
The gubernatorial race in Connecticut is the most important race in the country. Connecticut was a low tax, booming economy with a great business community. Then Gov. Dannel Malloy took over. He's a nice guy, but for the last seven years, he taxed the state to death. People are actually moving to New York to save property tax.
Businesses fled Connecticut. Even General Electric had to leave the state because of the brutal tax policies — nobody ever thought they'd leave. Democrat Ned Lamont would continue that, maybe even make it worse.
It's important to vote for republican Bob Stefanowski. He's not exactly Mr. Charisma, but he's got a great tax plan. All the top economists, Larry Kudlow, Art Laffer, love it. He could probably save the state. Under his plan, Connecticut would become almost property tax-free in eight years.
The real problem is, experts tell me, even if Stefanowski wins, there's huge voter fraud in Connecticut. If all of the sudden on Election Night it looks close and then somehow they can't find the votes from Bridgeport or Waterbury for two days — that happens sometimes — Stefanowski ends up losing.
New Jersey
U.S. Senate
Democratic Senator Bob Menendez is as sleazy a senator as you can get. He's all tangled up with donors. There was the guy giving him the free jets, the prostitutes, all of that stuff. They tried him two times.
He wasn't convicted, but they made it really clear that what he was doing was unethical and immoral if not technically illegal.
But that's enough reason to get rid of Menendez. Even New Jersey politicians, like the governor, are hiding from Menendez — they don't want to be anywhere near him.
Republican Bob Hugin is a good guy. He's an ex-Marine, a top CEO, he'd be perfect. Yes, you'd still have a million other corrupt officials in New Jersey, but it would make a difference. Hugin hopefully will win; it's very close.
New York
This is the problem if you're a New Yorker: there's no real republican party in New York. It's the worst republican party in years, and they don't have candidates. There are six congressional districts in New York where republicans didn't even put up a candidate.
U.S. Senate
They have Chele Farley, a total amateur, running against Kirsten Gillibrand.
Gillibrand looks great on TV and sounds sincere, but I don't buy that act. Donors love her. That tells you something.
Gillibrand was vulnerable, but there's no real candidate. Farley's got no shot; she'll lose by 20 or 30 points.
Governor of New York
The race for governor of New York is similar to the race for U.S. senator; there's not a strong candidate. Republican Marcus Molinaro has done a good job, but obviously it's tough to beat incumbent Governor Andrew Cuomo.
Cuomo's got so much more money for advertising on TV and online. He looks sleazy to a lot of people. It looks like whether or not he is personally corrupt, the whole state government is filled with corruption and he's done nothing to get rid of it.
It would be great to elect Molinaro. I don't know if he's done enough or if he had enough money. He did okay in the debate, but I don't know if that was enough to change things.
New York Attorney General
Attorney General Eric Schneiderman resigned in May over allegations of sexual misconduct and abuse. He was also terrible at the job, totally corrupt. He ran that case against Trump University, which was a little of nothing compared to the case against the Clinton university, Laureate University, which is under investigation all over the world.
Schneiderman weaponized the attorney general's office to go after Trump and others. The current acting attorney general is doing the same thing.
But as far as the race for New York Attorney General goes. The democrat Letitia James is a very nice woman, but another far left former city councilwoman. Nice woman, but not the brightest woman in the world. I guess we're going to be stuck with her.
Again, republicans in New York don't come up with strong candidates. Republican Keith Wofford is more of the same in that respect.
More than half the vote in these state races, more than half the vote comes from New York City, and that's obviously a very democratic vote.
New York Comptroller
Incumbent democrat Tom DiNapoli is not a bad guy. He's been pretty good, not great, but as good as anybody.
DiNapoli is up against republican Jonathan Trichter, an investment banker and finance expert.
Comptroller's main job is to invest all the pension money of New York State; DiNapoli has been pretty good on that. It won't be the worst thing in the world to have DiNapoli stay.
New York City Ballot Questions
New Yorkers will be asked three ballot questions on November's ballot.
Proposal 3 would implement term limits for the city's 59 community board members and establish measures to promote diversity on those boards, so their memberships better reflect the demographics of the communities they serve.
You probably should have term limits because you get so much corruption. Not that community board members are stealing money, but donors end up owning these politicians. We tried term limits with the city council, and then instead of the pay-for-play politicians, you end up with a lot of wackos in there. They get crazier and crazier.
You're always better off having term limits; you don't want professional politicians.
Proposal 2 would create a 15-member "Civic Engagement Commission" to increase civic trust and participation in New York City.
That's a good idea because nobody knows what the hell it is! I'm kidding. They'll spend four years trying to figure out what they do. It's such a bizarre thing that they can't do any harm because nobody will figure out what that job is.
Proposal 1 would amend the NYC charter to lower the amount a candidate for City elected office may accept from a contributor. It would also increase public funding used to match a portion of the contributions received by a candidate who participates in the City's public financing program.
That's always a good idea; the less money from an individual donor, the better. However, the reason for this is they have figured out so many ways to get around campaign finance rules. You can contribute to a PAC, any PAC that's created, and then the PAC can give you all the money they want.
It sounds good on paper. It won't accomplish much.
Photo: Getty Images