Eric Trump: My Dad needs to be prez 'like he needs a hole in his head'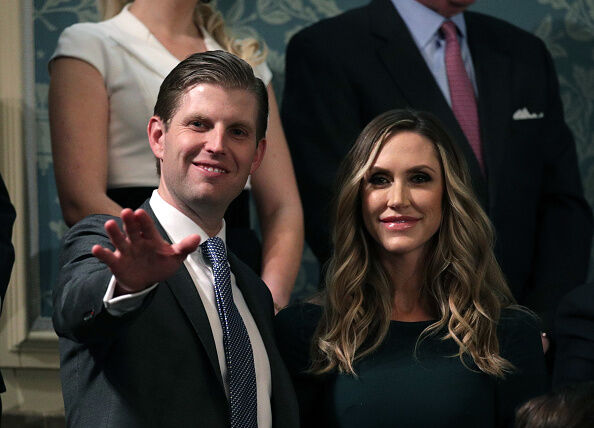 Eric Trump told WOR TONIGHT that his father needs the job of president "like he needs a hole in his head" but ran for the country's highest office because "the country was going to hell" in a wide-ranging interview that aired on 710-WOR on Tuesday evening. 
The conversation with host Joe Concha and special guest host Cooper Lawrence comes as the president is fighting Democrats seeking to impeach him over a July phone call in which he pressed Ukrainian President Volodymyr Zelensky to investigate former Vice President Joe Biden, a leading 2020 presidential candidate.
"He needs this job like he needs a hole in the head, I joke about that all the time," Eric Trump said in a phone interview. 
"But our country was going to hell, they were selling out our country to everybody they were giving 150 billion to Iran, a country who hates our guts ...we weren't going to have a country anymore," the executive VP of the Trump Organization continued. 
Trump also slammed Joe Biden and son Hunter Biden regarding Hunter's $50,000.00 per month compensation at a Ukrainian natural gas company despite having no expierence in the energy field nor not knowing how to speak the language. 
"Could you imagine if that was Don, if that was myself or Ivanka?," Trump asked. "He also didn't speak the language. This is a Ukranian company, he didn't speak the native tongue. 
"Think about that, so he's on the board of a company he didn't know anything about the subject matter, he's getting paid $50,000 a month, he didn't speak the language at hand, and then his father had the prosecutor who was looking into corruption in that company including his son," he continued. 
"His father had that prosecutor fired and it was on tape, yet, Trump's the one that's going after them? I've seen this time and time again and it's horrible."
In 2016 while in office, Biden called for Ukraine to fire a prosecutor who running an investigation into the gas company on whose board his son Hunter Biden sat. President Trump has since asked Ukrainian President Zelensky to re-open the investigation, prompting House Speaker Nancy Pelosi's decision to proceed with a formal impeachment inquiry. 
Eric Trump and wife Lara recently had a baby boy, their second child. And when asked by Lawrence if he will encourage his children to get into politics, Trump replied, "Probably not." 
"My kids will be tough as hell. They'll have that armor ...we're outsiders to this whole thing," he added. 
The entire interview can be heard here or at 710WOR.com.