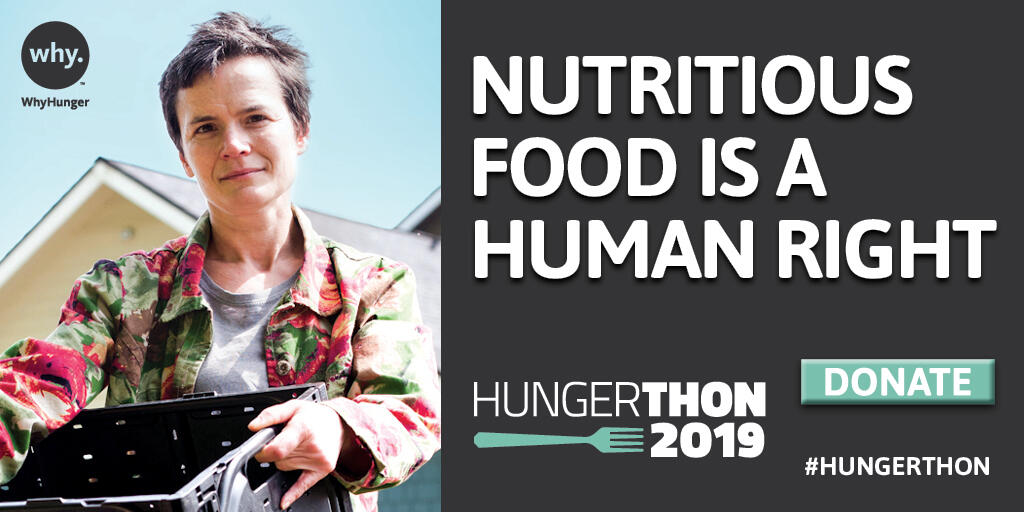 Help and WhyHunger End Hunger in America for Good!
Join and WhyHunger in fighting for everyone's right to nutritious food through Hungerthon, the annual campaign to raise funds and awareness to end hunger in the U.S. for good.
Did you know that 37 million Americans, including 1 in 9 million children, struggle to get the nutritious food they need? Hunger is solvable! Every year the Hungerthon community - radio personalities, listeners, celebrities and supporters like you - come together to help end hunger through exclusive online auctions, social media activation and live radio broadcasts. Last year, for the 3rd year in a row, helped raise over $1 million dollars through Hungerthon to invest in real, transformative solutions to hunger locally and around the country!
Join and take action now:
Donate online. Nutritious food is a human right! Donate now at hungerthon.org and invest in real solutions to end hunger in America.
Give a gift with meaning! Donate and select from the signature line of Hungerthon gifts including a John Lennon "Imagine There's No Hunger" Tee and Knit Blanket, Bruce Springsteen "Hungry Heart" Tee and Sweatshirt or a Carlos Santana "Supernatural" scarf and more!
Join us in spreading the word online using #Hungerthon and follow this year's Hungerthon celebrity supporters including Yoko Ono Lennon, Carlos Santana, Bruce Springsteen, Tom Morello, Mickey Factz and Frzy among others!
Funds raised through Hungerthon are invested in effective community-based solutions to end hunger and it root causes in the U.S. Your donation will help families get the healthy meals they need today and help communities build a future free from hunger.
WhyHunger is a 4- star charity, with the highest rating for excellence in fiscal management, accountability and transparency from America's leading independent charity evaluator, Charity Navigator. 86 cents of every dollar raised goes directly to programmatic work, so when you donate to WhyHunger's Hungerthon you can be sure your money is spent responsibly and will have the greatest impact.
Visit www.hungerthon.org to make a difference today.
ABOUT WHYHUNGER
WhyHunger believes a world without hunger is possible. We provide critical resources to support grassroots movements and fuel community solutions rooted in social, environmental, racial and economic justice. We are working to end hunger and advance the human right to nutritious food in the U.S. and around the world. Find out more at www.whyhunger.org.