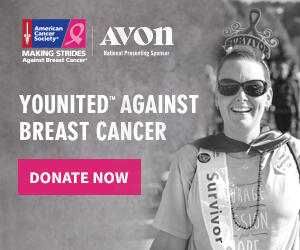 Join the fight against breast cancer. When you walk with the American Cancer Society's Making Strides Against Breast Cancer, you're helping save lives through groundbreaking research and early detection. You're providing patients, family and caregivers with access to 24/7 helpline for answers and support.
When you donate to the American Cancer Society, you're providing help to someone who desperately needs it. Join a walk or donate today at MakingStridesWalk.org.
Find a walk near you!
New York and New Jersey Metro Area, 2019 Dates:
October 20
Central Park, Manhattan
Central Park 72nd Street Bandshell, East 72nd St and 5th Ave, Manhattan
http://www.makingstrideswalk.org/centralpark
Orchard Beach, Bronx
Orchard Beach 1 Orchard Beach Rd, Bronx NY
http://www.makingstrideswalk.org/bronx
Coney Island Bdwalk, Brooklyn
Coney Island Boardwalk MCU Park, 1904 Surf Ave, Brooklyn
http://www.makingstrideswalk.org/brooklyn
Flushing Meadows Park, Queens
Flushing Meadows Corona Park 11101 Corona Ave, Corona
http://www.makingstrideswalk.org/queens
Midland Beach, Staten Island
Midland Beach 714 Father Capodanno Blvd, Staten Island
http://www.makingstrideswalk.org/statenisland
Lincoln Park, Jersey City NJ
Lincoln Park, Jersey City
http://www.makingstrideswalk.org/jerseycityNJ
Sherwood Island State Park, Westport CT
Sherwood Island State Park, Sherwood Island Connector Westport
http://www.makingstrideswalk.org/westportct
Jones Beach, Wantagh NY
Jones Beach State Park, 1 Ocean Parkway, Wantagh
http://www.makingstrideswalk.org/longisland
Manhattanville College, Purchase NY
Manhattanville College 2900 Purchase St, Purchase NY
http://www.makingstrideswalk.org/westchester
Hudson Valley
Woodbury Common Premium Outlets, 498 Red Apple Ct, Central Valley
http://www.makingstrideswalk.org/hudsonvalley
Parsippany
Century Office Campus, 4 Century Dr, Parsippany
http://www.makingstrideswalk.org/parsippany
Point Pleasant Beach
Ocean and Arnold Avenues, Point Pleasant Beach
http://www.makingstrideswalk.org/pointpleasant